CAINOZOIC RESEARCH
Cainozoic Research is a joint publication of the Working group for Tertiary and Quaternary Geology (WTKG, The Netherlands) and the Tertiary Research Group (TRG, Britain).
Cainozoic Research is a peer reviewed journal for scientific publications, predominantly in English, concerning geology of the Cainozoic. One volume of two numbers is published each year and is distributed free to all current members.
Please ensure that the format corresponds to that in the current Instructions for authors before submitting a manuscript. For additional questions and the submission of manuscripts you can contact the CR managing editor.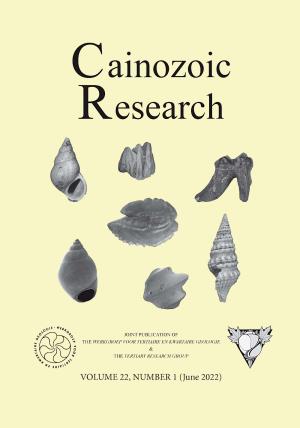 MEDEDELINGEN, CONTRIBUTIONS EN CAINOZOIC RESEARCH ONLINE
The journal is the sequel of the WTKG journals Mededelingen van de Werkgroep voor Tertiaire en Kwartaire Geologie (26 volumes, 1964-1989) and Contributions to Tertiary and Quaternary Geology (11 volumes, 1990-2000) and the TRG journal Tertiary Research (22 volumes, 1976-2000). Printed copies of previous issues of these journals (as far as available) can be ordered (see below).
Individual papers of the WTKG journals and of Cainozoic Research are available online at natuurtijdschriften.nl (type "Mededelingen" or "Cainozoic" in the box "Tijdschrift" or type part of the title or the name of the author; the "Contributions" are included under "Mededelingen"). New issues are added one year after publication.
SUPPLEMENTARY ONLINE MATERIALS
For some papers additional material is available, in addition to what has been documented in the printed paper.
Peters, M.E., Bosselaers, M.E.J., Post, K. & Reumer, J.W.F. 2019. A Miocene leatherback turtle from the Westerschelde (The Netherlands) with possible cetacean bitemarks: identification, taphonomy and cladistics. Cainozoic Research 19(2): 121-133.
van Vliet, H.J., Bosselaers M., Vahldiek B.-W., Paymans T. & Verheijen I. 2020 Eocene cetaceans from the Helmstedt region, Germany, with some remarks on Platyosphys, Basilotritus and Pachycetus. Cainozoic Research, 20(1): 121-148
Hovestadt, D.C. 2022 A partial skeleton of Carcharias cuspidatus (Agassiz, 1843) (Chondrichthyes, Carchariidae) including embryos from the Oligocene of Germany. Cainozoic Research 22(1), pp. 25-36
Van Hinsbergh & Hoedemakers 2022 Zanclean and Piacenzian otolith-based fish faunas of Estepona (Málaga, Spain). Cainozoic Research 22(2), pp. 241-352 - Figure 1 - Table 1 - Table 2
ORDERING PREVIOUS ISSUES
The WTKG has a small stock of some of the previous issues of the last 2 volumes of its scientific journals. Available issues can be ordered from  the WTKG Treasurer (penningmeester).Please note costs for mailing will be added.